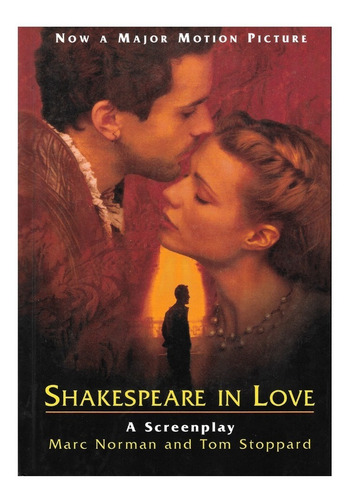 Características principales
| | |
| --- | --- |
| Título del libro | Shakespeare in Love |
| Autor | Marc Norman, Tom Stoppard |
| Idioma | Inglés |
| Editorial | Hyperion |
| Formato | Papel |
Otras características
Género del libro: guion de cine

Tipo de narración: Guion de cine
Descripción
WINNER -BEST SCREENPLAY - NEW YORK FILM CRITICS CIRCLE

The companion screenplay to the Miramax/Universal/Bedford Falls Company Film starring Gwyneth Paltrow, Joseph Fiennes, Geoffrey Rush, Colin Firth, Ben Affleck, and Dame Judi Dench.

It is the summer of 1593, and the rising young star of London's theater scene, Will Shakespeare, is writhing in the grip of writer's block, desperate for inspiration. The great Elizabethan age of entertainment unfolds around him, but Will just can't seem to work up any enthusiasm for his latest play, "Romeo and Ethel, the Pirate's Daughter." Suddenly, the muse descends—in the shape of Lady Viola, a wealthy, young girl who aspires to be an actress, even though women are forbidden to appear on the Elizabethan stage. Undaunted, Viola disguises herself as a man to audition for Will's play; but her guise falls away as their passion ignites. At last, as Viola becomes his real-life Juliet, Will rediscovers his creative fire, transmuting their love into words and thereby creating one of the greatest love stories of all time.

"An Intoxicatingly glamorous romance." —Janet Maslitn, The New York Times

"An exciting literary-erotic entertainment." —David Denby, The New Yorker

"One of the. . Junniest, most enchanting, most romantic. . .and best written tales ever spun from the vast legend of Shakespeare." —jack Matthews, Newsday

Marc Norman has written several screenplays, including Zandy's Bride and Killer Elite. He has also published three novels, including Oklahoma Crude and Fools Errand, as well as writing and directing the play firmer Locklear.

Tom Skppard's first play to be staged was Rosencrantz and Guildenstem Are Dead, his celebrated account of the exploits of two minor characters in Shakespeare's Hamlet. His screenplays include Brazil, The Empire of the Sun, The Russia House, and Billy Bathgate. Among his other plays for the stage are the Tony Award-winning Travesties, The Real Thing, Jumpers, Arcadia, and most recently, The Invention of Love.

Shakespeare In Love - Screenplay - Hyperion - Tom Stoppard
Garantía
Garantía de la tienda
Sin garantía
Medios de pago
Tarjetas de crédito con Mercado Pago
¡Cuotas sin interés con bancos seleccionados!
Tarjetas de débito
Efectivo